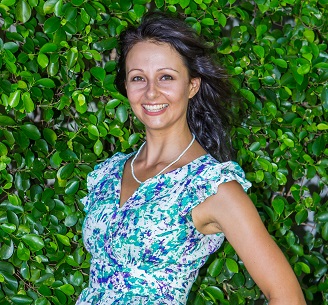 Hi, I'm Yulia Tarbath – and it's my passion to help health and wellness coaches, healers and practitioners attract the right clients, create more freedom and grow their business to a six-figure level and beyond …I have 2 formal degrees — Business Studies And Psychology and I'm also a certified Health Coach with over 6 years of experience in the wellness arena.
Together with my husband, we built a successful multiple six-figure business online in the plant foods health coaching niche.
I have been featured in the Huffington Post, Daily Mail, The Mirror, Mind Body Green, Natural News and other popular magazines, newspapers, blogs and websites.

Through my work, I help wellness coaches focus on the right steps to grow their business online and create the life they want to live.
How did I get to become a coach to wellness coaches?
We started our online health business in the plant based, raw food health niche many years ago.
I regained my health and my life back with this lifestyle and I had a strong desire to help other people. So both myself and my husband had a real passion to help others, but online marketing was very new to us.
We were working hard and our following was growing – but the growth of our following back then was not translating into the income we needed to earn to sustain ourselves fully.
"Could this whole health coaching thing really work?" 
We were draining our savings and this was causing us a lot of stress and tension. At one stage of our business, we were close to quitting it all together, which was heart breaking for me.
And it's not that we were doing nothing to correct our situation.
Over the years, we've invested a lot into all kinds of online marketing courses – launches, high end business coaches, endless marketing programs, Facebook ads … but unfortunately we were still not seeing results.
And because we've worked with one business coach after another and none of them were able to bring us the results we wanted to see, we began to think that our plant-based niche was just not profitable – it was a big passion of ours, but things were not working for us. Perhaps you can relate to what I'm saying here?
My husband and I are raising our beautiful daughter and we realised that our old way of doing business was NOT a sustainable way forward – not for our family, for our future or for our sanity. It was stressful, frustrating and we needed to change things fast to stay in business.
The turning point … 
We would probably have ended up being burnt out and quitting, but something truly life changing came into our world.
We switched to a high ticket coaching model and adopted a new business strategy.
We hit six figures as health coaches and we were amazed to discover just how much more time, joy and freedom we were now having in our lives.
So, I'm here to tell you that you can create your business in a way that actually allows you to work less, earn more, serve your clients and have the freedom in your life to do what you want to do.
You can build your business to six figures and beyond and have a stream of beautiful, high paying clients who will want to invest in you as a coach.